Products | Textile conveyor belts
Ambelt® textile conveyor belts made of EP or PP-textiles are used for conveying bulk material. Due to the high tensile strength and stability the belts are suitable for long distance conveyors. Ambelt® conveyor belts are strictly manufactured according to DIN 22102.
The application areas for these standard belts are divers:
Mining industry
Chemical sector
Iron and steel industry
Ports and transshipment operations
Wood industry
Coal-fired power plants
Recycling industry
Sand and gravel industry
Stone quarries
Cement plants
The Ambelt® product portfolio includes diverse qualities and assemblies as well as cross rigid XE-fabric.
Technical data
For inquiries, please directly refer to the Ambelt® Serviceteam.
Contact
Ambelt® Förderbänder
Kreuztor 2
38126 Braunschweig
T. +49 (0) 531 609 440 211
F. +49 (0) 531 180 544 57
E. info@ambelt.de
Ambelt® catalogue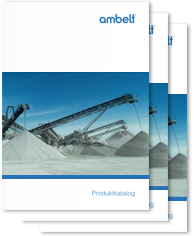 Download »